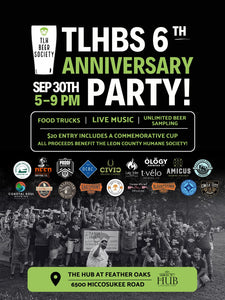 Tallahassee Beer Society 6th Anniversary Party Tickets
Regular price $20.00 Sale
The time has come!

The Tallahassee Beer Society is turning 6 years old this year - and it's time to PAAAAARRRTTTTYYYYY .... AGAIN!
September 30, 2023 at The Hub at Feather Oaks 5-9 PM
$20 scores you a ticket for unlimited beer sampling - for 4 hours - and includes a commemorative cup with portions of the proceeds from the entry benefitting the Leon County Humane Society. Not only will they get a great donation from us for the 2023 TLHBS Membership Card sales during the party, they're also going to get a little something extra this year thanks to your ticket purchase TO the party. 💪 🐶 🐈 🍻

Last year's 5-year anniversary party - at what was then "The Space At Feather Oaks" - was so much fun, we've decided to make it an annual thing.

Here's what to expect on Sept. 30th (which is an OFF weekend for FSU Football, btw!):

BEER

ALL-LOCAL LINEUP ONCE AGAIN!!  With more than 25 different beers from the 19 breweries we cover...
Southern Philosophy, Deep, Proof, Oyster City, Civic, Lake Tribe, Ology, Amicus, Halpatter, Southern Fields, Coastal Soul, Georgia Beer Company, Eastpoint, Salty Oak, Hammerhead, Blountstown, Fool's Fire, T'Velo, Circle City 
FOOD
Five of the best local restaurants and caterers will have terrific food & cuisine available for purchase.
Mr. V's Finest Hot Dogs
Rich Rob's Philly Stop
Ry Ry's BBQ
The Wingman
BK's SnowKone Factory
Raw and Grilled Oysters from Oyster Mom
LIVE MUSIC
Tallahassee's own Shift 8 an acoustic group playing music of all genres
ADDITIONAL FEATURES
Adoption station from Leon County Humane Society
Yard games (Cornhole, ladder toss, drunken frisbee, Connect 4 and giant Jenga)
TLHBS 6-Year Anniversary Commemorative Cup

Tickets will be scanned at the door, so be sure to keep your PDF (or load it into your Apple Wallet).  You'll get an email confirmation with a unique QR code that we will scan at the door!

We are so excited to make this party an annual thing and we appreciate The Hub for once again allowing us to have it there. For those who haven't been, it is an incredibly unique indoor-outdoor venue - with plenty of covered space just in case it rains. So yes the event will happen, rain or shine!

Can't wait to see y'all on Sept. 30th and celebrate 6 years of The GREATEST Beer Society in America! 😎 🍻