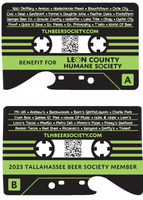 Drink Local -- Eat Local -- Explore Local...like never before!
The TLH Beer Society Membership Card
It. Is. Back!
Our mission to promote the craft breweries, distilleries, and eateries of North Florida and South Georgia took a HUGE step forward with the 1st ever TLH Beer Society Membership Card.
Y'all got out there, supported our local beer and food scene, scored some great perks, and helped us donate $5,555 to help Leon County Humane Society!
So how do we follow that up? Volume 2 -- dropping November 25 -- ups the ante with 16 new perks!
This 1 mm thick metal card is your key to unlocking exclusive perks (and opening a few bottles) at 40 area establishments and exploring some of the places helping craft our fantastic food and drink scene.
* The Tallahassee Beer Society Membership Card gives cardholders exclusive perks to 40 area breweries, distilleries, and restaurants that support the local beer scene.
*Unlimited uses of any of the discounts and perks from January 1, 2023 through December 31, 2023
*A portion of the net proceeds from all cards sold will benefit the Leon County Humane Society --Click to learn more about LCHS
* Valid through December 31, 2023
Order Yours Now
Tallahasee Beer Society Membership Perks -- "Side A"
TALLAHASEE BEER SOCIETY MEMBERSHIP PERKS -- "Side B"
Bonus deals
Summer Bonus Deal!
TLHBS MEMBER CARD SUMMER BONUS DEAL
Our good friends at Salty Oak Brewing Co. - Panama City's best brewery - and Tallahassee Beer Society supporters since Day 1 - have come up with a really sweet BOGO deal for Beer Society Members: Buy one 4-pack of 16 oz to-go beers, get one free.
All you have to do is pop in for a visit, flash your card, and pick whatever beers you want off their expansive menu. And any beer they brew can be canned, because they have an in-house hand canner where they freshly can every single to-go beer!
We saved this bonus perk for the summer time because we know many of you will be traveling to and visiting Panama City over the next few months (Henderson State Park FTW!). And since Salty Oak is right on the way to the beach, they came up with a great deal to make sure you had some delicious local beer to drink while your toes are in the sand. This deal also ensures that when you make the short trek to Panama City, you'll have a chance to bring some great SOB beer home with you!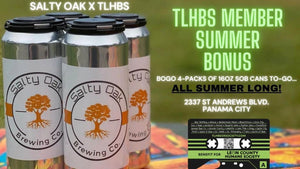 Follow Us On Instagram @TLHBeerSociety